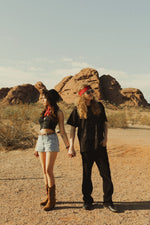 It is February, and it's our favorite time of the year as it represents one of the many strong, core values we care deeply about! Love is at the center heart of everything we do from finding the vintage we care about to designing the classic styles we love and cherish. For this story, we had the pleasure to interview one of our favorite collaborators and influencers, Alycia Sage aka @dazedsage. We adore Alycia and Nate's power couple vibes meet 1969's "Easy Rider" film style, to gypsy with a spellbound rock n roll, and a sprinkle of gothic southwestern edge! And that is a whole stylish mouthful of fashionable looks all mashed into one, and we love it! Let's get to know our Vintage Lovers of the month, Alycia & Nate!
@dazedsage
@LoversVintage: Where did you meet?
@DazedSage: We met through a mutual friend! I had just moved to Arizona and one night my friend got invited to hang with some people she knew in high school so she invited me to go with her. It ended up being this kickback at Nate's place, he would always invite people over to drink and chill, while him & his band would jam out in the garage. I thought he was cute and I love guitar players so I went up and started talking to him!
@LoversVintage: How would you describe your style?
@DazedSage: My style is all over the place honestly it's hard to describe sometimes haha, but it's definitely always inspired by past decade fashion! Right now it's sort of a mixture of 70s rock n roll and 90s grunge. I'm definitely drawn to darker colors though, as much as I try to add color into my closet I just can't stop buying darker colors!!
@LoversVintage: Where do you pull inspiration for your fashion styling?
@DazedSage: All my inspiration for styling definitely comes from the 1960s-90s! I'm really inspired by the rock n roll scene of those decades. Debbie Harry is a HUGE fashion inspiration for me, I love how her style is sorta edgy and punk rock yet still cute and feminine. I get a lot of inspiration from the 80s metal scene and 70s punk scene when it comes to accessorizing. A lot of my inspiration also comes from my Indigenous heritage. Especially since moving to the Arizona, I've gotten really inspired by that southwestern desert aesthetic and all of the beautiful Indigenous tribes out here 🧡
@LoversVintage:  What is your favorite date night activity?
@DazedSage: We're definitely more homebodies so usually we'll just cuddle up and watch a movie, or maybe make some dinner, light a candle, and have a little date night in the comfort of our own home. Sometimes we go on little desert adventures too, we both love being surrounded by nature.
@LoversVintage: How long have you known each other?
@DazedSage: About a little over a year and a half! Technically we met for the first time around Spring of 2020, but we didn't actually start talking until Fall, then officially got together on Halloween of that year!
@LoversVintage: Are there any styling tips you'd like to share?
@DazedSage:  Always dress in what you like and what makes you feel comfortable. Don't focus too much on what the trends in fashion are, just wear what YOU want. It's okay to take inspiration from others, but make sure you're inspired by them because you genuinely like the style and not because everyone else likes it. I think the biggest part of fashion is expressing yourself, and you can't do that if you're just copying others. Wear clothes that make you feel confident and comfortable! Just have fun with fashion. Don't take it too seriously, don't care what others think, just express yourself!
@LoversVintage: What is your favorite iconic style moment?
@DazedSage: It's so hard to pick just one iconic style moment! I recently watched the movie "Coyote Ugly" not long ago and all of the Coyote's fashion is so iconic. Definitely a big inspiration for me right now! I love the whole 70s western vibe meets the 90s/00s scene. Also all of the style in Almost Famous. Penny Lane is a major icon!!
Thanks for reading!
Peace, Love, & Vintage ❤️
Bright Blessings