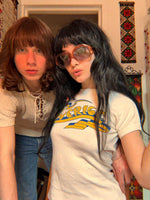 Vintage is not about recreating eras or an Austin Powers movie set, but it is about living in a time and space where we feel we belong to energetically. It is really a way of life, and not just a fashion statement. Here is another stylish couple we are very thrilled to introduce to our vintage community. 
Meet psychedelic duo, Julia & Alex- record collectors, pulling fashion inspiration from the 60s, and Italian Renaissance details resonating deeply in the underlying Capulet theme of Romeo and Juliet. From Malmö, Sweden we are very excited to share another exclusive interview with an adorable couple and their Love Story and how they incorporate vintage into their daily lives. 
@LoversVintage: We love a power couple story time, so where did you 2 love birds meet??
@Progpinglan: We had been IG mutuals for a while, but our first encounter was when we ran in to each other at the grocery store haha! We had said before that we should meet up for a beer, and so we did a couple of days after that. This was in the beginning of 2019. We instantly got along and became good friends… and then we were "just friends" for a while and it wasn't until this year that we became a couple, and acknowledged that we have actually been in love with each other all these years!
@LoversVintage: How would you describe your current style? And how do you inspire each other's sense of style and fashionable taste?
@Progpinglan: Alex dresses mostly casual 70s, while I go for late 60s, preferably medieval/renaissance revival dresses, love myself some bold sleeves; Juliet sleeves are my fav. Alex used to be very sixties when he was younger, he looked like he came straight from 1967 but now he is kinda over that. But I am not, so I can steal his clothes and accessories from that time hehe. We are almost the same size so we can share a lot of clothes with each other, which is lovely!
@LoversVintage: What are your top 10 must have fave clothing & accessories you absolutely love and need in your wardrobe? (Items you can't live without!)
@Progpinglan: My most beloved clothing is my velvet Palestinian ceremonial cape. If I could only choose one thing in my wardrobe to keep, it would be that one. I only have a black one at the moment, but I want more in different colours, preferably purple, but haven't scored one yet! Other stuff I must have are lace up boots, I wear them regardless of the weather. I still wear them in the summer haha..! I also need chokers, rings (a lot of them), dresses with all kinds of sleeves, afghan coats, tailored leather bags, colourful tights, big sunglasses.
Another item I also never would get rid of is my vintage Biba shirt that is almost identical to the one Mick Jagger wore at Hyde Park in 1969.
@LoversVintage: 
What is your favorite date night activity to do with your beau?
@Progpinglan:
I really love when we're just at home, drinking some cocktails or wine, listening to our old music and just talk all night. I love going out too tho, to eat, or go to a gig.
@LoversVintage:  
What are your go to records this summer? ( list a few)
The World In A Sea Shell - Strawberry Alarm Clock (1968)
Beautiful Sun - The Peppermint Trolley Company (1968)
Will You Be Staying After Sunday - Peppermint Rainbow (1969)
Studio - Tages (1967)
Ted - Ted Gärdestad (1973)
@LoversVintage:  

Are there any styling tips you'd like to share for a summer of '69 kind of vibe?
@Progpinglan:
Check out how they dressed at Woodstock, hehe!
@LoversVintage: 
Is there a current fashion influencer or muse you look up to or feel inspired by this season?
@Progpinglan:
Not really! I don't know that many current fashion influencer actually.